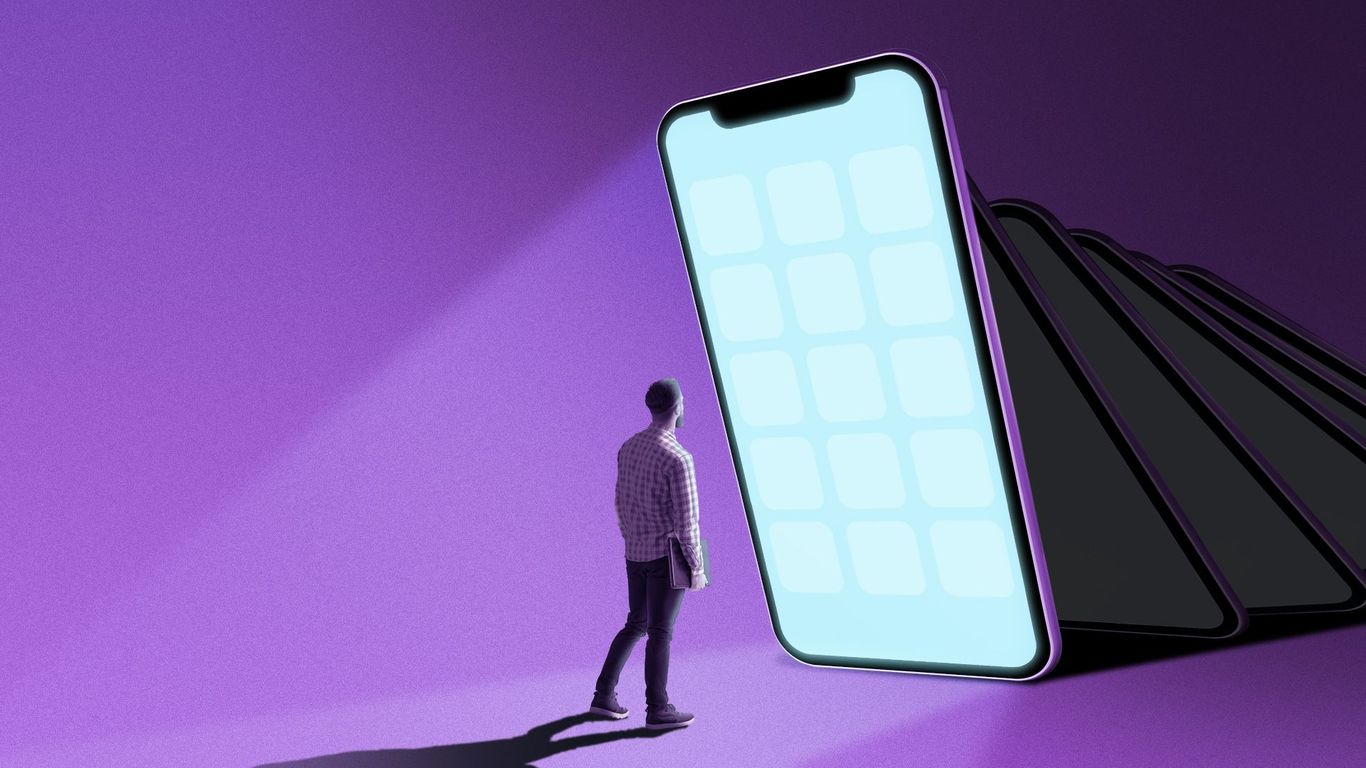 BEVERLY HILLS, Calif. — The tech insider crowd partied here at Code Conference this week, but many couldn't shake the sense that the world's colossal problems are outrunning the breakthroughs their industry is promising.
The stage brimmed with talk of flying electric taxis and space tourism. Optimists flashed "we can fix that" smiles. But there wasn't enough tech-fueled bravado to lift the shadows: Runaway climate change. Misinformation-fueled erosion of democracy. And a planet where isolationism is rising as globalization falters.
Driving the news: Code Conference, the venerable tech gathering founded by Kara Swisher and Walt Mossberg, returned after a two-year break — and as a smaller event in a new location. It marked, for many attendees, the first in-person industry event since the pandemic shut everything down in early 2020.
As to be expected, there was a lot of talk of huge advances set to arrive in the coming years.
Elon Musk talked about his plans for satellite internet and his broader ambitious for space travel to the moon and Mars, along with getting in some digs at rival space-loving billionaire Jeff Bezos.
The Larry Page-backed startup Kitty Hawk brought a prototype of its pilotless electric flying taxi to the conference.
CEO Sebastian Thrun talked about the potential for planes like Kitty Hawk's to run cheaper and use less energy even than electric cars.
Still, Thrun's company hasn't yet achieved lift-off. The CEO hopes to be the first test passenger later this year, once the company wins permission for flying beyond the line-of-sight of those at the controls.
Yes, but: Political and vaccine-related misinformation and a broad breakdown in truth and trust were also big topics of discussion — with those problems described in far more detail than proposed solutions.
Former CISA head Chris Krebs called for a "whole of society" response — an urgent but vague prescription. Even the more specific remedies he urged, such as stronger civic curriculum in schools, would take years to approve and longer still to have an impact.
Microsoft CEO Satya Nadella also called misinformation a "hard problem" and said neither AI nor armies of human moderators will fully solve it.
Meanwhile: Attendees struggled to outline a coherent strategy to deal with the fraying of the U.S.-China relationship that once supported a truly global tech industry.
Nadella and AMD CEO Lisa Su both rejected the idea of fully decoupling the two countries' tech industries but acknowledged there are also national security issues that globalization failed to take into account. Neither offered much detail, though, on what a happy middle ground would look like.
The event closed out Wednesday with no consensus on how to take on these tough issues. There was, however, a discussion of the benefits of psychedelics, while a handful of volunteers received intravenous vitamins.
On a personal level, attendees struggled to figure out the proper way to greet one another, when to don masks and even how to make small talk after months of more transactional Zoom meetings.
Investor Roy Bahat, of Bloomberg Beta, compared it to the first day of kindergarten.
PR veteran Brooke Hammerling likened the gathering to "The Blip," from the Marvel film universe, in which half the population vanishes and five years pass after Thanos snaps his fingers.
Hammerling's late-night poker gathering was back as well, albeit with the notable absence of table regular Tony Hsieh, the longtime Zappos CEO who died during the pandemic.
Disclosure: Ina worked for Code organizer Recode and its predecessor All Things Digital from 2010 to 2016.